Christmas gifts
Since I started sewing, I've been making some of my own christmas gifts to offer my friends and family. When I decided to do this, I wanted to give them something with meaning, not just something I made to save money on gifts. So I made a little research on the web, to get some inspiration, some ideas I could give my own twist to… and I found something even better, the Taleigo, which is a small bag made of clothing scraps, used in the old days, to carry food and other necessities.
Desde que comecei a costurar, que gosto de fazer alguns presentes de natal, para oferecer a amigos e família. Mas quero sempre fazer algo que tenha algum significado e que não pensem que simplesmente quis poupar algum dinheiro. Fiz uma pesquisa pela web, à procura de inspiração, ou de alguma idéia a que pudesse dar o meu cunho pessoal… e então descobri o Taleigo, um saco pequeno e estreito, usualmente feito com restos de tecido ou roupa velha, usado, nos tempos idos, para transportar comida e outros bens.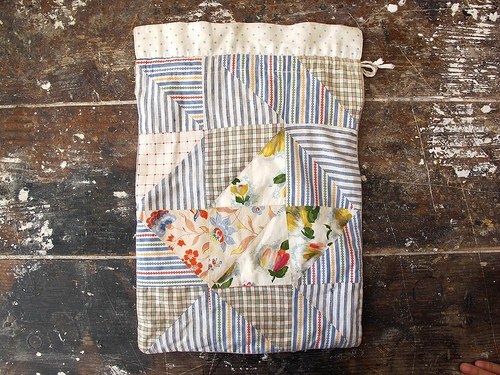 Taleigo (or in current language Talêgo) is a portuguese word, that comes from the latin Talica, which was a measurement unit for liquids (olive oil) and also from the arabic Ta'liqa, which was a measurement unit for cereals, such as wheat. This to me is fascinating, because I'm very familiar with this object. My grandmother has several of these bags, that she used to take to the bakery to carry and store bread. In my house it was a "bread bag". And this was a very common way to store your bread!
But as I started reading more about it, I found out it was used for many other purposes through out time, such as to carry the soldiers food as they went into battle, to carry laundry, to go to the market, even, filled with scented herbs to keep bugs away from clothing… People used to have several of theses bags, and when ever one got ripped, the women just made a new patch, and it was brand new again!
Taleigo (ou na linguagem corrente Talêgo), tem origem no latim Talica, uma unidade de medida para líquidos, nomeadamente o azeite, e, também, do árabe Ta'liqa, uma unidade de medida usada nos cereais, como por exemplo, no trigo. Isto para mim, foi uma descoberta fascinante, porque sempre conheci este tipo de saco. A minha avó tinha, e tem, vários, que usava para ir à padaria buscar o pão. Sempre o conheci como o "saco do pão". E isto era uma prática corrente!
À medida que fui lendo mais sobre o assunto, fiquei a saber que era usado para muitas outras funções, ao longo dos anos, p.e., onde os soldados transportavam o farnel, para levar roupa suja e lavar no rio, para ir à feira, até para encher com alfazema e guardar nas gavetas para afugentar as traças… Era costume haver vários Taleigos, cada um com a sua função e se algum se rasgasse, as mulheres coziam um novo remendo e continuava em uso!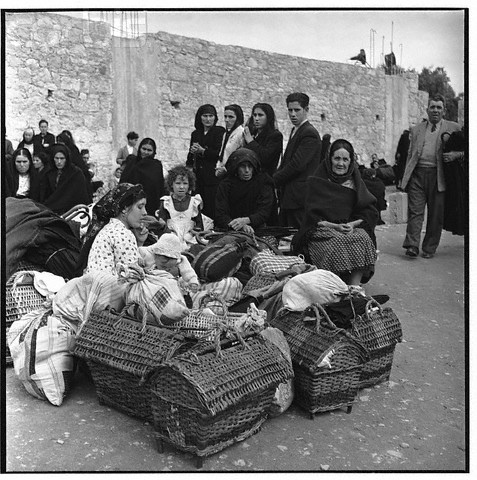 A large group of people on a pilgrimage to Fatima sit with their luggage (1952).
Um grupo de peregrinos a caminho de Fátima com as suas bagagens (taleigos e cestos, 1952).
I can not do justice on all that is written about this little bag, and I don't want to miss out on facts, so you can find out more here or here.
Ainda há muita coisa por descobrir sobre este pequeno saco e também não quero errar nenhum facto, se quiserem podem ler algumas coisas aqui ou aqui.
So now I had something with "real meaning" I could sew. I didn't use scraps (but I do have a full bag of it, so I'll be sewing lots of taleigos with those), but kept it very simple.
For the kids I made a small one, and it didn't seem right to give them an empty bag, because they wouldn't understand, so I also sewed a garland for their bedroom (I've added the pattern to the patterns page).
This one, was for my niece.
Assim, já tinha algo com "significado" para oferecer. Não usei restos de tecido (mas tenho um saco cheio deles, que vou certamente usar em muitos Taleigos), mas quis que tivesse um aspecto minimal.
Para as crianças, fiz um mais pequeno, e como não íam achar muita piada receber um "saco vazio", fiz também umas bandeirolas (na página Patterns, encontram o molde).
Este era o da minha sobrinha.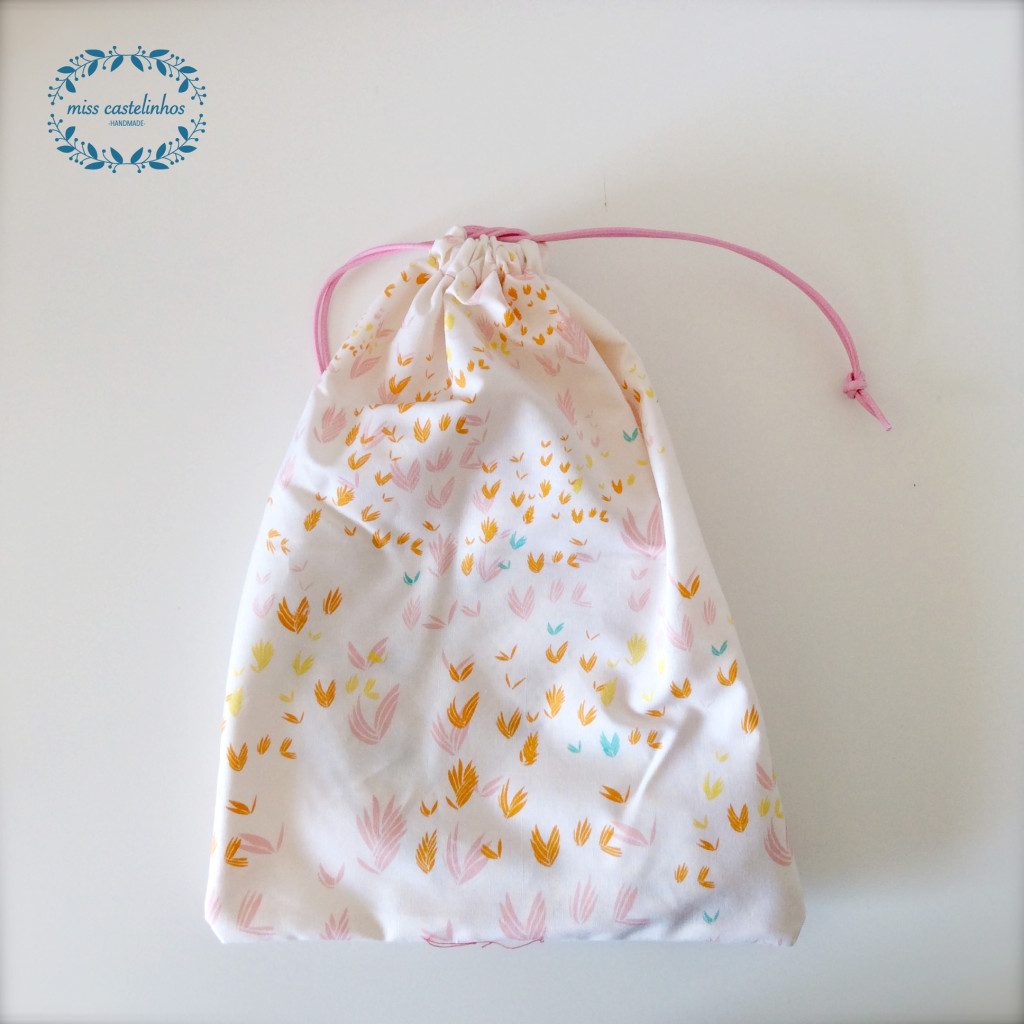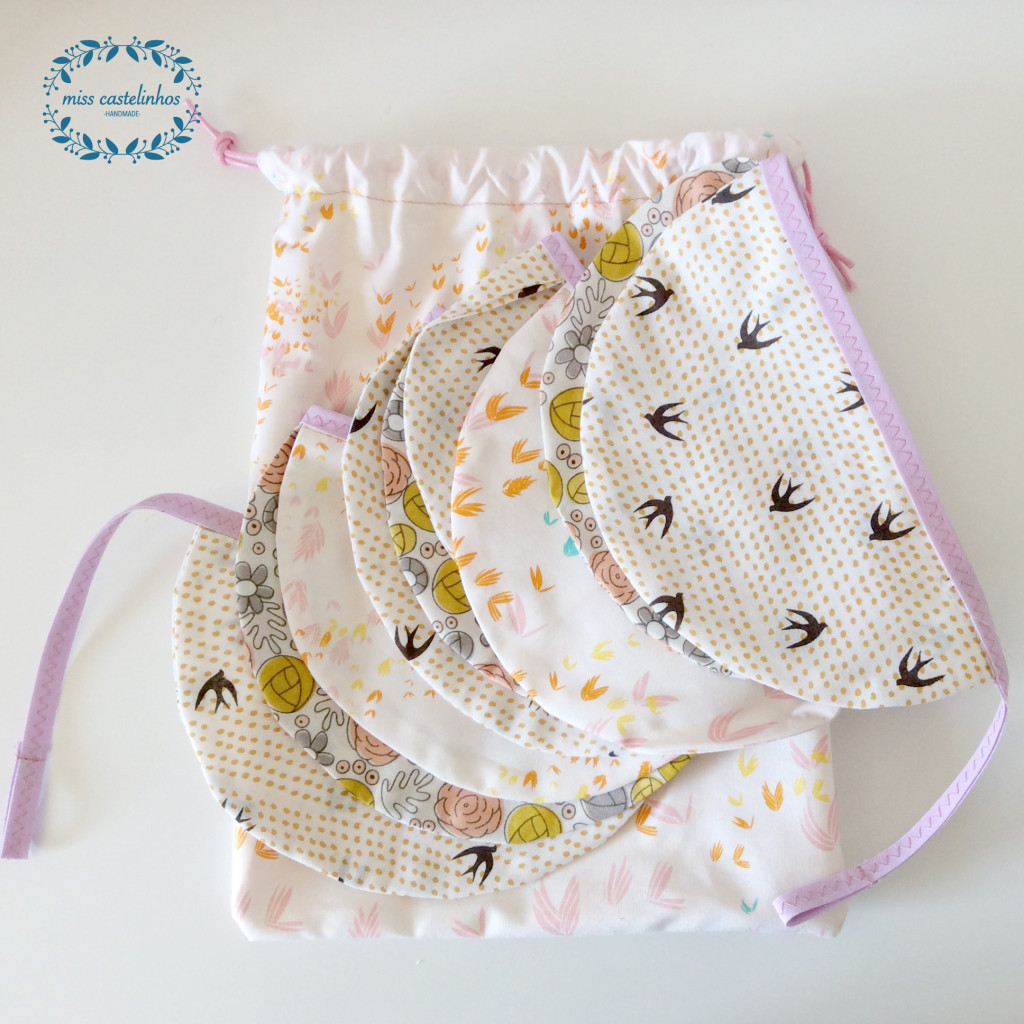 For the grown ups, I made a bigger one, and also filled it with gifts.
Para os crescido, fiz um maior e também enchi com presentes.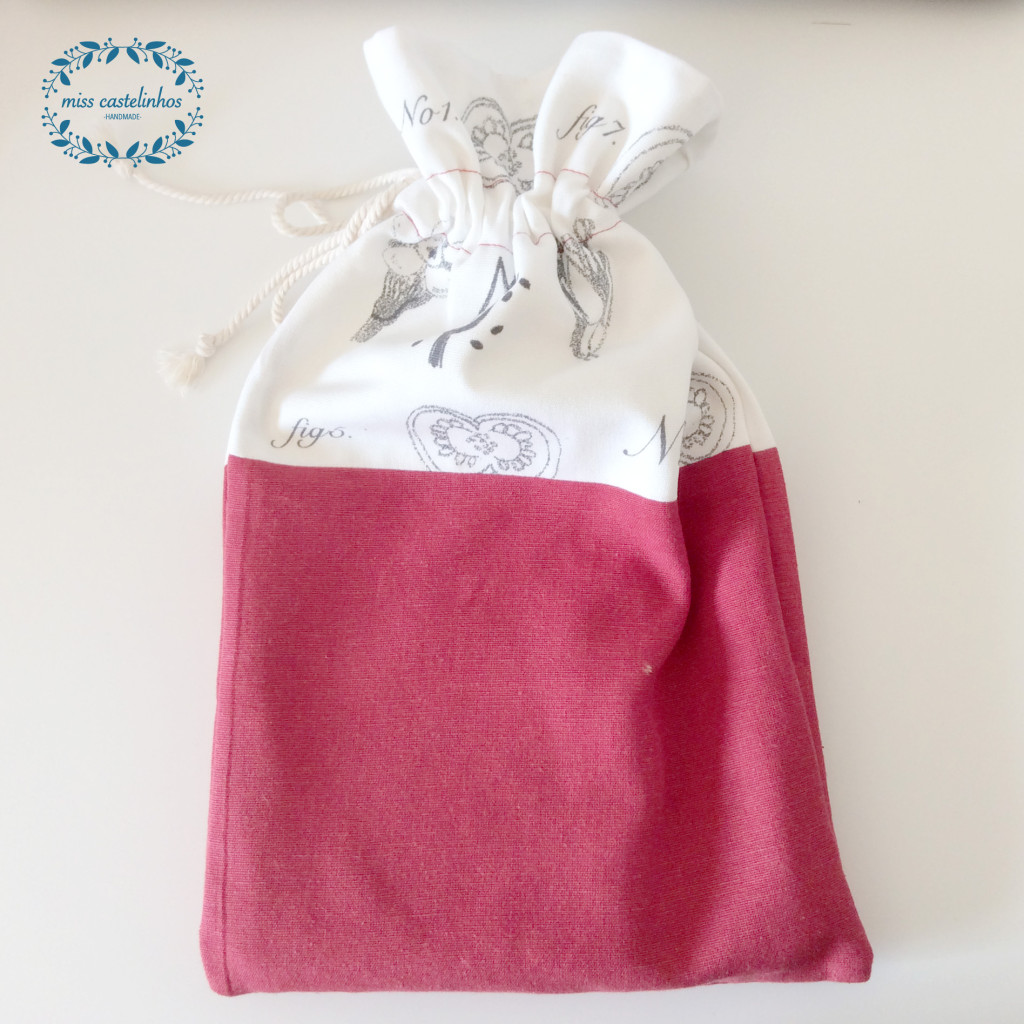 I really loved making these and finding out more about this kind of bag and it's meaning in our culture.
Gostei muito de fazer estes presentes, mas principalmente de descobrir um pouco mais sobre a história deste objecto (tão familiar) e a sua importância na nossa cultura popular.