The first sewing project of 2015
When I first saw this raincoat, I knew I had to make it! I wasn't quite sure if I could, nor did I know what fabric to use, but I just HAD to make it for my kids!
This was also the first pattern I ever bought, so it was quite an impulse move!
So the search for the perfect fabric began… I wanted to use a laminated fabric, and because the shape of the raincoat may seem a bit "girly", I was looking for fabrics with a camouflage print, for my boys. So I stumbled on this print and it was PERFECT (second time using caps lock, I'm really excited :D). It had an army feel to it, but at the same time, it was suitable for a kid's garment. The print is from Etsuko Furuya, part of the Echino ni-co Collection (I'm a sucker for Japanese fabrics!). I ordered the fabric, which was on sale and free of postage fees (iiieeeiii!), but because it was coming from Hong Kong, it was held up at customs, when arriving in Portugal… So after 3 weeks in customs (whaaat!), I finally received my beloved fabrics and payed some heavy taxes! By then I was knee deep in christmas gifts, so I had to postpone this project…
Has soon has my oldest son, went back to school, after christmas break, I jumped at the opportunity to start sewing. I couldn't wait to get this done! But it wasn't as easy as I would hope…
I have to admit, there were a few bumps on the road… the pattern is quite simple, but for some reason, I couldn't get my head around it. I had quite a few problems with the hood. At first I wasn't planning on making a lining, but it wasn't looking "pretty", so I decided do make the lining, only for the hood. I had to attach it to the raincoat, twice, because, my machine wasn't able to pull the fabric. Because it was laminated, the walking foot kept getting stuck, and I had to "force feed" (that's an expression!) the fabric to the machine. So all the seems were a bit crooked… until my partner had the brilliant idea of telling me, why not use the quilting walking foot, and I hadn't thought of that, but it worked and I was able to finish it.
 It's not perfect… I can see all the mistakes… but the look on my son's face, when I gave it to him, made it all worth while!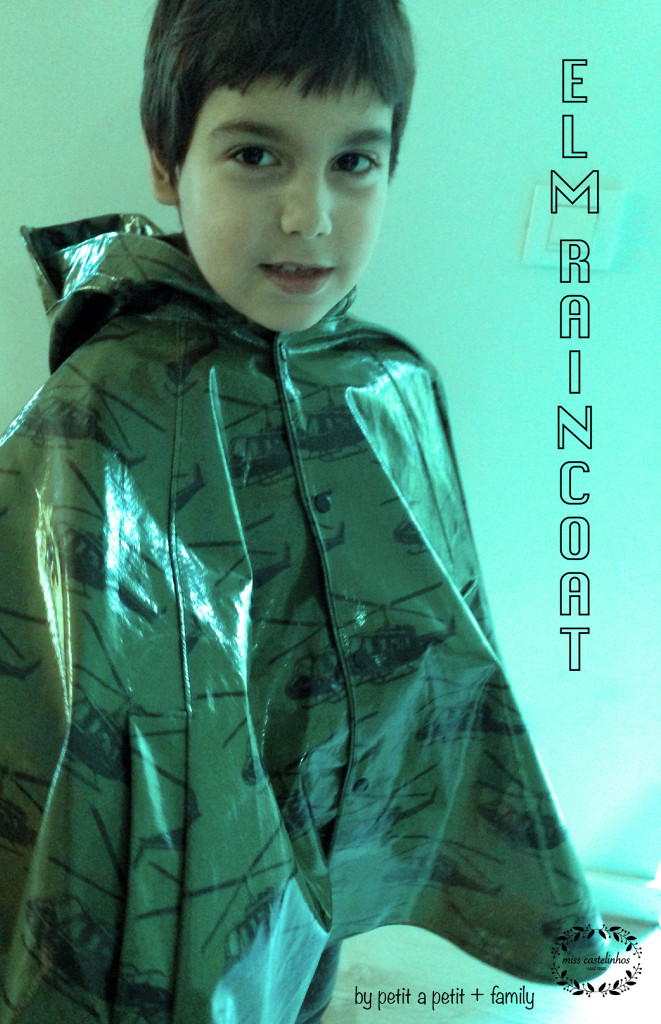 A primeira vez que vi esta capa, sabia que tinha que a fazer! Não sabia se era capaz, nem sequer tinha tecido, mas tinha MESMO que a fazer!
Foi também, o primeiro molde que comprei, tal foi o impulso que senti!
Então começa a busca pelo tecido ideal… Sabia que queria usar um laminado, e queria uma espécie de camuflado, para dar um aspecto mais "arrapazado" à capa. Até que encontrei este, que era PERFEITO (segunda vez que uso caps lock, estou mesmo entusiasmada :D). Tinha o aspecto "tropa", mas ao mesmo tempo, tinha também algo de infantil, exactamente o que eu procurava, para esta peça. O design é Etsuko Furuya, da colecção Echino ni-co (e eu que adoooro tecidos japoneses!). Encomendei o tecido, que até estava em saldo e com portes de envio gratuitos (iiieeeiii!), mas como vinham de Hong Kong, assim que chegaram a Portugal, ficaram na alfândega… 3 semanas e 30€ em taxas alfandegárias depois, chegou o meu adorado tecido, mas por essa altura, estava imersa em prendas de natal.
Assim que o mais velho regressou à escola, depois das férias de natal, pus mãos à obra. Estava desejosa de ver este projecto acabado! Mas não foi tão fácil quanto eu esperava…
Tive alguns percalços, tenho que admitir… O molde não era complicado, mas por algum motivo, tive dificuldade em segui-lo. O capuz foi a minha maior dificuldade. Inicialmente, ía fazê-lo sem forro, mas acabei por o fazer, para ter um acabamento mais perfeito. Mesmo assim, tive que costurar duas vezes, o capuz à capa. Como o tecido era laminado, não corria muito bem na máquina. O pé calcador ficava preso no tecido e eu tinha que forçar o tecido a deslizar, o que acabava por dar origem as umas quantas costuras muito tortas. Até que o génio do meu marido, me sugeriu usar o pé calcador para quilts, que talvez conseguisse puxar as duas camadas de tecido melhor. E não é que conseguiu!
Não está, de todo, perfeita… consigo ver todos os erros e falhas que cometi… mas a cara do M quando a viu acabada, compensou todas as dores de cabeça!
Just in time for these rainy days!
Mesmo a tempo, para estes dias chuvosos!